Startups Drive Job Creation in the New Economy
by SelectOne on Fri, Nov 6, 2015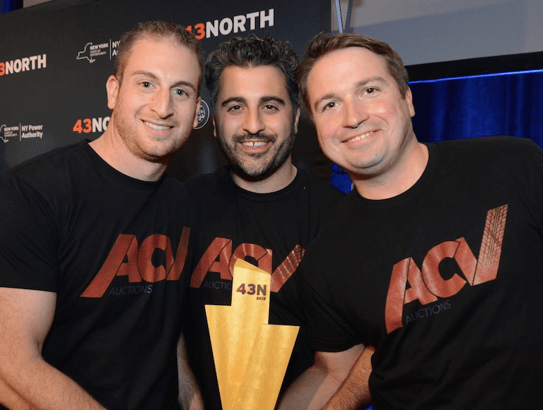 Q&A with 2015 43North Winner ACV Auctions CTO, Dan Magnuszewski
The rate of change is accelerating at a breakneck pace. As of Q3 2015, Facebook employed nearly 12,000 people and has a market cap approaching [gasp] $300 billion; ten years ago Facebook was being run out of a dorm room. Salesforce was founded 15 years ago and employs over 16,000 people, with a market cap in excess of $36 billion. I could go on to list more obvious tech companies even the least informed person would recognize – Uber, Tesla, Zynga, Twitter, Lyft, Instagram, WhatsApp – pointing out impressive job creation numbers and staggering valuations conjured in mere months and years, not decades or generations.
Five years ago in Buffalo the startup scene barely had a pulse. There were a few companies that had launched (Campus Labs and Liazon, notably, have gone onto very successful exits), but there were very few notable successful exits at that time (Synacor among them). With a rise in persistent, passionate community catalysts and successful serial entrepreneurs, the context for more frequent kinetic collisions was set in motion. Perhaps the largest manifestation of this evolving ecosystem is the 43North business plan competition, also known as the world's largest business idea competition. The theory is that startups and high growth companies are fueling and increasingly driving economic prosperity.
The winner of the 2015 43North Competition was one of Buffalo's very own, ACV Auctions. ACV Auctions is a live wholesale marketplace for dealer-only automobile auctions. Conducted via a smartphone application, ACV creates liquidity for wholesale inventory (trade-ins and aged automobiles) 24 hours a day. An intuitive 5 minute process of snapping pictures and drafting a vehicle description launches an auction to 100's of registered buyers.
Dan Magnuszewski is ACV's Chief Technology Officer, in addition to being one of the aforementioned catalysts in the Buffalo startup scene. I sat down with Dan to discuss their big win and gain some perspective from someone building a company and driving job growth.
Sam Russo: Why startups? Why did you get involved in the startup community?
Dan Magnuszewski: My extended family owns a number of different businesses and it was just kind of a natural thing. They all did pretty well, so I wanted to start and run a company because that was normal to me. I come from a software tech background; even back in college I ran ACM, which is the computer science student organization, Association for Computing and Machinery. As the ACM chair – I was trying to get more people involved and interacting with each other, so it's just something I do naturally. While in school, I was in charge of programming language meet-ups, which I continued and it grew into trying to get other groups together and meeting other people doing interesting things.
SR: Prior to SelectOne, I always wanted to start a business, or run a business, and ultimately grow businesses. When I was younger I had no idea how I was going to make it happen. Have you ever felt that way, and if so, what words of wisdom would you give to people with an entrepreneurial spirit, but have yet to take the leap?
DM: I was always inventing things and drawing up different ideas in my notepad. But, I worked a lot of shitty jobs getting started! When I was 13, I was a dishwasher and worked almost every restaurant job. I actually got into industry in network operations and was Cisco certified out of high school. But, you do learn a lot about what you don't want to do, too.
I was motivated to get into industry and start learning; but based on the type of person I am, I kind of got bored at the pace at which things were moving. I always looked around and said, "if I stay here forever what's the best I'm going to do?" And then of course I got screwed over on a promotion and few pay raises, and then I kind of said, "[expletive] this, I'm out!" Then I went to Synacor, worked in a smaller, nimble, vibrant environment, with super smart people, way smarter than I'd worked with previously. But it still got to a point where I asked myself, "if I'm still here, what's the highest I can go?".
Through community involvement and being associated with different organizations, I met Steve Poland. We were talking about ideas for companies, which encouraged me to jump out on my own and ever since then I really haven't looked back. Most people just get worried about all of the "risk," but in reality if you're good at what you do, you never need to worry about having a job. It seems like only people who are bad at what they do are truly worried about having to find another job. It's like their lucky they have a job, but fear nobody else will ever hire them, therefore they can't leave their current employer because, god forbid, they try something new and it doesn't work out.
SR: And so much of that is about confidence too…
DM: Right – you have be confident, hard working, always improving your skills, and expanding your network.
SR: How did you meet your partners at ACV Auctions? What's the backstory?
DM: I meet a lot of people who have ideas, and that's how I met Joe Neiman (CEO). Joe was still working a full time job and he pitched me the idea for ACV and I thought it was kind of interesting. I get the industry; my dad is a used car dealer, I knew all about the auctions and that kind of stuff, so I thought I could build it and get other people involved to build it out even further. At the time, Joe was just kicking it around to see if other people thought it might have legs and after talking a bit more, we decided to build it. We did our wire frames and all that stuff and we brought in Jack Greco (CFO) – I'd known Jack through UVANY and Upstate Venture Connect, travelling to events in Rochester and Syracuse. At the time, Jack was checking up on z80 Labs and the companies there, and I told him about this side thing I was exploring with Joe. Jack was interested in it, the three of us met, and it kind of took off from there.
When we started, I was still working full time, so I'd go to work until 6pm, go home, and eat dinner… After dinner, I'd fire up the laptop, make some coffee, and code from 7:30 or 8 o'clock at night, until 2, sometimes 3 or 4 in the morning. Then, I'd get up and do it all over again. There was just too much work, and we knew we had to jump – we all left our jobs, and had no income for many months, until we eventually closed a first round of funding which allowed us to start getting paid again.
SR: So you won 43North, which I'm sure has been a complete whirlwind. But now you're at the point where you're going to scale your business. You're creating jobs out of thin air, which is a pretty special thing; how do you view your role and ACV's role in the local economy as it relates to job growth?
DM: I think locally, we need more interesting young companies, places people want to work at, using interesting technologies and doing fun stuff that technologists want to do, namely, solving problems. Going from what we have in our current infrastructure to the question of how we can build something to scale across the country and beyond is a big challenge. There's a lot of really interesting problems that need to be solved, and especially locally, there aren't too many companies offering this. Ideally we're creating jobs that will attract people from outside the area that are looking for really interesting opportunities that they didn't think existed; ACV being that type of company is exciting.
Showing that you can create companies quickly, get funding, scale it up, bring in revenues, scale again, and keep doing that here in Buffalo, is one of the important things we can do. Ideally, other companies are right behind us, and there are certainly others that have come before us. So it's just about keeping the momentum going. If we can be another high profile company then it puts more of a spotlight on Western New York, and shows that there are really cool jobs, and not just boring software engineering roles, but instead really interesting jobs that are impacting some of the largest industries in the country. That's really our goal. And on a national level, it's great to have people looking at Buffalo, but more importantly, the people interested in moving here for the same types of jobs available as they would if they were in Silicon Valley or New York City.
SR: What does it mean to you to be able to do what you're doing and take a swing at this the way that you are in Buffalo vs. Silicon Valley, Boston, or New York?
DM: It's great and it's exactly what I wanted. It's a lot of the gospel that I've been preaching over the last four to five years. I could've left and gone wherever, but I didn't think it was necessary. I think sometimes there's a herd mentality, especially in previous generations, saying this is what you have to do in order to succeed. We just thought, "hey, we're doing this anyway, let us show you…". To be able to do that and to show we can get funding and build something is special. It's one thing to go to another city and ride along in the wave, but to me it's interesting being able to shake shit up and create the waves, and build that from scratch and have an influence on it. That's what I like to do; it's almost too easy to say, "oh, I can go to NYC and do this thing," as opposed to building a company and a community, changing a city, the landscape and the view of the city. It could have a very big impact in an area like Buffalo.
SR: What are some of the tech startups that have launched, raised, grown, and exited successfully, nationally and locally, that you admire most because of what they did, how they did it, and why?
DM: That's a good question! I like boring things…. I love marketplace-based ideas. I really like what Etsy has done. ACV is kind of changing the old guard, so it's kind of that craft show we're bringing online. The same way that Uber was interesting: how do you take advantage of owned assets, and how do you allow people to rent out their stuff? The first Startup Weekend, I worked on a company called BoatShare, an Airbnb for boats. I had the issue where I owned a sailboat and had 12 weddings that summer. I didn't want to put it in the water because it wasn't worth it. But I had friends say, "hey, what if we pay you to cover your costs, would you put it in at that point?" I thought this was a great idea, and I knew I wasn't the only person that had encountered this issue. Everyone I've come across that owns a boat complains that they don't use it enough or that they pay too much.
Companies that are creating the Airbnbs' of the world are really interesting. They've been able to scale up. I like antiquated industries, especially the industry we're breaking into. Nobody's touched it and there's been no real desire for innovation. They do things because that's how they've always done it, and they're just focused on making money. Being able to go into those unsexy industries and solve real problems with people who are used to paying money, want to pay money, and will pay you money on day one because you're solving such a huge issue. That's the kind of stuff I love, because it's just so boring, and there's just so much money behind it.
SR: What ways can tech companies seeking to disrupt aging industries integrate with the education system and labor markets to ensure there will be an adequate pipeline of candidates for companies like ACV?
DM: That's the beauty of what we do and ideally we will be causing a shift in the types of jobs within auctions. But the reality is those same skills and the knowledge of the industry will still have value. How things work, how to sell vehicles, title transfers, and sales will all still be important to us. Yeah, we're a mobile platform that provides a marketplace where cars can be sold directly, but there's still shipping and physical goods. On the technology side, we are becoming a data company, providing dealers with better financial information about their market or inventory. ACV allows dealerships to be more successful by saving the dealers time from driving around to three or four auctions per week. We allow a lot of people to be better at their job because we're cutting out a lot of the legacy stuff that made their jobs so difficult to do.
We are adding efficiencies all over, but at the end of the day, it's all about sales people and customer service, which is what you need. A lot of the physical auctions out there treat their customers like shit because they're the only game in town, and if you don't like it, then tough, you can't buy cars, which means you can't sell cars on your lot. Our view is that there's a lot in how we can establish a unique value proposition to our customers, and service them at a high level.
There are still many of the same types of traditional jobs, but obviously as we shake up the industry, it's going to be a little different. And on the technology side, every company is moving to software. In terms of training, obviously the more people that can do everything from regular data analysis in Excel, to writing mobile applications, understanding different databases and developing software and financial models are all types of things that people have always been doing, but there's going to be a greater need for that. So I think this still falls in line with a lot of traditional job roles, but the work environment is going to be different, the culture is going to be different, expectations will be different. And especially at a startup, you're not just checking in and checking out 9AM-5PM. We don't have a vacation policy – if you need a vacation you just take it. But at the same time there are going to be days when you need to do stuff, and if you're just there for the paycheck then you're not really going to cut it.
No Comments Yet
Let us know what you think