Staffing Agencies: What you should know as a job seeker
Trouble finding the job you're looking for? Start Here!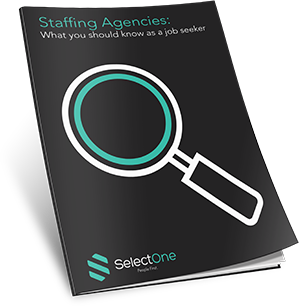 Searching the job market for work can be difficult in even the most upbeat economy.
Recruiters are your professional representative in a proficient and powerful manner, using a comprehensive analysis of your work-related skills as the source of a purposeful dialog with prospective employers.
This eBook was written for job seekers thinking of contacting a staffing agency for help finding the job they're looking for.
In this eBook you will find:
How to select and contact a staffing agency appropriate to your needs
The value of working with a staffing agency
What to expect when working with a staffing agency (process, fees, etc.)
Download the ebook today and get all the info you need.