5 Steps to Successfully Implementing New Technology in the Workplace
by SelectOne on Tue, Feb 25, 2020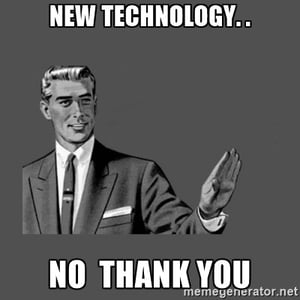 Companies of all sizes are facing a digital imperative: introduce new technologies effectively or face competitive obsolescence. In fact, 78% of us feel achieving a digital transformation will become critical to our organizations within the next two years.
Despite the urgency to adopt new technologies, 63% of us feel the pace of technological change is too slow. Hurdles appear in the form of poor training, the inability of new technologies to speak to existing systems, and just plain disgruntled or habit-oriented individuals.
So how can you roll out a new software or device to your team without backlash and growing pains? Here are five steps to successfully implementing new technology in the workplace:
Click the steps above for tips on implementing technology at your company!
1. Investigate technologies that will solve problems for your company.
The purpose of adopting new technology in a workplace is to provide solutions to problems or inefficiencies. While some solutions are obvious, others require a little—or a lot—of investigation.
As problems arise, you'll naturally search for solutions. Make sure you cast a wide net and look into all possible solutions. Then, when you've identified the best technological solution, communicate this with your employees! Let them know that you're considering a new technology, and make sure to lay it out for them how it will solve a problem.
This may seem obvious, but it is also important to ensure the technology you are potentially implementing will help solve the issues initially identified. One way to ensure this is to solicit input from key stakeholders. Involving stakeholders from all levels helps identify unexpected problems, find solutions and ultimately assist with the eventual transition.
Gaining insight from key stakeholders early on in the decision-making process has another advantage: you'll create 'ambassadors' for the new technology at all levels of the company by asking for their input. Explain to these employees the advantages and intended outcomes of the technology so they can support the effort to other employees later on.
2. Assemble an implementation team to champion the new technology once you've chosen it.
Before the term "team" scares off all you small business owners, know that one person can suffice for an implementation "team" depending on the amount of work your new technology implementation will require.
Why do you need an implementation team? Because the new technology's superiority over its competitors and strategic value mean little when it comes to its acceptance among employees. Many implementation efforts fail because someone underestimated the scope or importance of such preparation.
The first step in the implementation process is assembling a team to take on three crucial tasks:
Making sure the project receives appropriate resources.
Overseeing administrative details.
Managing conflicting priorities.
To do these three things, you'll need an internal "sponsor" for the new technology, a project manager, and an "integrator."
3. Run a pilot program to work out kinks and gain buy-in.
The next step in the implementation process is to create a pilot program. This experiment will prove technical feasibility to top management as well as serving as a credible demonstration for other departments in the organization.
Along the way, you'll likely work out a few kinks, such as connecting the new technology to old ones and ironing out processes for completing tasks using the new tech. After the kinks have been resolved, you'll be confident when it comes time to scale up.
Once the pilot program is complete, move onto the final implementation stages – focusing on installation, setup and training.
4. Train your employees to use the new tool.
Not all technologies are user-friendly. New technologies are often complicated and require extensive training.
Providing engaging training sessions are key to a successful implementation. Keep in mind a few different aspects of an effective training session:
Everyone has different learning styles and needs. Tailor your training sessions to all types of learners by providing a range of materials and options.
Make the training personal - let people know why this matters to them, and how it will impact their day-to-day work.
Ask for feedback from users at every stage in the implementation.
If there is confusion or resistance from the onset you can expect low adoption rates, so don't underestimate the importance of proper training when rolling out a new piece of tech.
5. Launch, fine-tuning the tool to fit your needs as you go.
If you've made it to launch, congratulations! You've troubleshot your new tech and it's ready to be implemented.
However, technology implementations don't perform well when companies "set it and forget it." A final step for the successful integration of new technology is to evaluate its performance post-installation.
If problems exist, and most likely they will, continue iterating the way you use the new tech or the way it was set up. Don't forget to lean on your account manager for help. They will be more than happy to make sure your new tech is working for you.
---
There will almost always be challenges while trying to introduce or learn a new technology. Using the process above, while trying to sympathize with those who struggle with change, will go a long way to successfully implementing your new technology.
Editor's Note: Originally published 2/17/17; updated 2/25/20.